OMGTR members may place ads in this section for vehicles, parts or accessories for sale or wanted. Non-members may submit ads but inclusion of the ad is at the discretion of the OMGTR executive. If the ad is no longer required please advise the webmaster. If you wish to place an ad on this website, please contact the Webmaster.
Buyers and Sellers Beware!

CARS FOR SALE
1969 MGC Roadster – (Dec 26, 2017)
Full body restoration with approx. 5600 miles on engine rebuild. Comes c/w a spare factory inline six engine, a spare factory manual overdrive transmission along with soft and hard tops. This rare gem has been in our family for 30 years and I have owned it for the past 15 years. The MGC is located in Calgary and I am asking $36,900 for the package.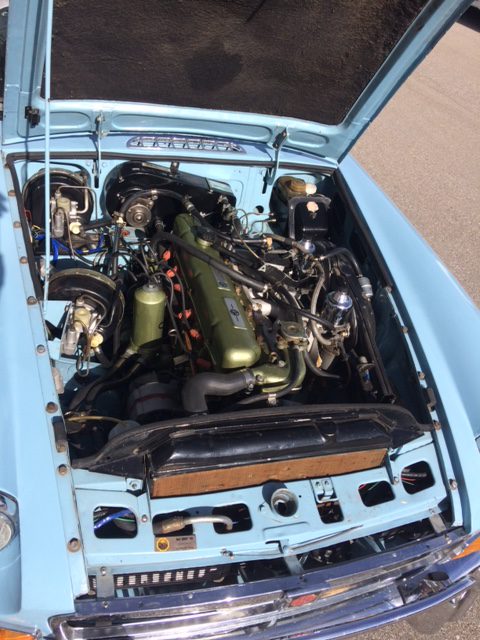 Additional photos and information available upon request.
William P. Allen, Calgary, AB Tel.
403 243 4805
wpallen@telus.net
1952 MGTD – (Nov 15, 2017)
Chassis TD18310, Volvo 2 litre and transmission (fresh overhaul), MG B brakes and suspension (redone). Not perfect but beyond my ability to finish.
Original engine gone but all other TD parts are included.
New Moss sunbrella top and side curtains, 5-MGA 1600 rims (fit B brakes and look like TD rims), currently has TR6 rims and Cooper tires. Includes 5 original and 5 new ss hub caps and 5 original medallions.
Includes BW wrenches, sockets, taps and dies.
Lots more.
Asking $10,000 CDN or best reasonable offer.
Norm at norm@nors.ca or 613-832-5508
1950 MGTD = (Oct 16/17)
1950 MGTD Basket case. Rolling chassis TD 4522 XPJM engine block $4,000.00 or best offer.
Contact Jeff @ tuscanybound2@hotmail.com or 416-769-3866.
1949 MG-YT (July 5, 2017) For sale or trade.
It was purchased by my father from a widow. My father past away and I inherited the car. Its been in the family since 2002 stored away. My father started body work and got some of the panels done and in primer. This car may have been originally painted black but the ownership states the color to be red. The wood for the doors has been remade. It has rear wheel covers, windscreens and an auxiliary cabin heater. Its missing a tach, rear bumper, battery lid, cracked windshield, interior needs work but have patterns to remake from originals. The speedometer reads 36940 miles or converted to kms is 59449.
The engine runs as well as trans shifts, clutch wore, brakes not working, some lights work. jackall in place but the pump may be missing (aux. heater in its place?), no air cleaners, front fenders and running boards welded to body. I have the original used car package from MTO that my father received, ownership, no brand, 2 previous owners, we are the 3rd owner. This car appears to be #'s matching.
tag on battery box reads:
yt / exu / 2819
xpag / tl / 12763
Please check out the link at Wikipedia for more technical info: https://en.wikipedia.org/wiki/MG_Y-type
Message/call to book an appointment. open to trades or reasonable cash offers, asking $6000.
Contact Justin at 5196084062 leave a message if you would like to be called back or to request a viewing
1954 MGTF – (June 15, 2016)
Lovingly owned for 45 years. Absolutely beautiful in classic white with camel interior & beige convertible top, side curtains & tonneau cover. Chrome spoke wheels & luggage rack. 25,000 miles since restoration. $32,000.00
Helen Jenkins 416-233-9960
1961 MGA Mk II – (August 18, 2015)
White with red leather and vinyl trim interior, red carpets. Has been restored.

Contact Bill Mason via email at mgbill@sympatico.ca
1974 MGB-GT (5 February 2013)
Good rubber, blue, original interior, spoke wheels, tune up last year . Got to go. Asking $7000 or best offer. Call Mike Steady at 905 876 4558 or Email.
---
MAGAZINES
(September 2, 2017)
100's of copies of The Sacred Octagon magazines from the mid 60's and Trillium News from the early 70's available to anyone who wants some or all of them.
Contact Bob Grunau at grunau.garage@sympatico.ca or 905-274-4136
PARTS FOR SALE



(June 15, 2017) 5 spoke wheels for TF – $400 for set or $100 each.
Helen Jenkins 416-233-9960
Ontario personalized license plates for a 1948 MGY (December 7, 2013)
MGY-049
Contact Gordon Champion 416-429-5278 or
gordonchampion@outlook.com
Set of four 16″ 48 spoke wire wheels with tires (November 7, 2016)
The wheels are in good condition with no broken spokes and good splines. The tires are 185R16 Universal brand with about 8000kms and new tubes. The tires have a tread pattern similar to the Dunlop Racing dog bone pattern. Cost of the wheels and tires was $1900. Will sell for Cdn. $600 for all 4.
Contact Dominic Crawley by phone at
587-361-3336 (Alberta) or send email to crawleydg@gmail.com
T-Series Parts for Sale (27-Aug-2012)
Various parts for MGTD, MGTF, MGA and MGB.
To see the complete list click HERE for PDF file.
Contact Jerry Jean evenings and weekends at (519) 747-4204 or Email
Oil drip pan for all T Series cars (27-Aug-2012)
As seen in TSO and TN. Those with a small drip from the pan at least!
Very easy to install as it fits right under the cotter pin where the oil drips out of your bell housing. One bolt to undo.
First production run all sold out now and second bunch has arrived.
Sell for $65.00 plus $10 PP or you can pick up at a meet.
Email or phone
Gord Whatley
416-727-0441
---
CARS WANTED
---
PARTS WANTED
MGTD Glove box chrome trim (27-Aug-2012)
For both the box opening in the dash and for the glove box door.
Also need small nails with these trims if available.
Dean Corkins 905-481-0942 or Email
Miscellaneous
Other Ads. (2-May-2013)
http://www.bsccweb.com/Files/Cars1.pdf